Human Activity Recognition
Self-Suerpvised Learning (SSL) for sensor-based human activity recognition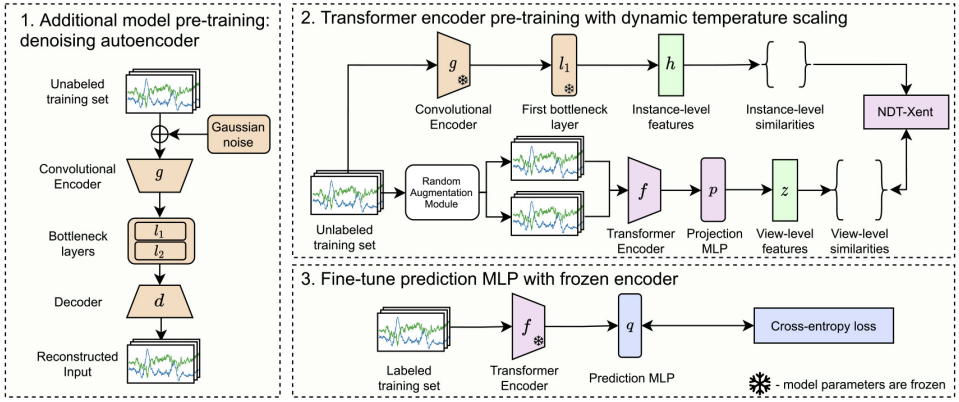 While working as a post-doctoral researcher at Maastricht University, I was fortunate enough to be the daily supervisor of Bulat Khaertdinov, a Ph.D. candidate at UM. I guided and collaborated with Bulat to work in Self-Supervised Learning (SSL) for sensor-based Human Activity Recognition (HAR). During my Ph.D. research, when working on Deep Metric Learning, I recognized that SSL could improve the learning process, especially for those tasks (e.g., sensor-based HAR) where data collection and annotation are time-consuming and expensive. We conducted two studies, introducing a novel method based on contrastive-based SSL. Our study also addressed the problem of negative pairs in contrastive learning by using dynamic temperature scaling within a contrastive loss function. The extensive evaluations of three widely used open-source datasets have shown that the proposed method achieves state-of-the-art SSL activity recognition task results. Furthermore, it has demonstrated strong potential in semi-supervised and transfer learning by outperforming many counterpart baseline methods.
This collaboration resulted in the following publications:
B. Khaertdinov, S. Asteriadis and E. Ghaleb, "Dynamic Temperature Scaling in Contrastive Self-Supervised Learning for Sensor-Based Human Activity Recognition," in IEEE Transactions on Biometrics, Behavior, and Identity Science, vol. 4, no. 4, pp. 498-507, Oct. 2022, doi: 10.1109/TBIOM.2022.3180591.
B. Khaertdinov, E. Ghaleb, and S. Asteriadis, "Contrastive self-supervised learning for sensor-based human activity recognition," in 2021 IEEE International Joint Conference on Biometrics (IJCB), IEEE, 2021, 1–8 (second runner up award).
B. Khaertdinov, E. Ghaleb, et al., "Deep triplet networks with attention for sensor-based human activity recognition," in 2021 IEEE International Conference on Pervasive Computing and Communications (PerCom), IEEE, Mar. 2021, pp. 1–10.